But It Was Beautiful..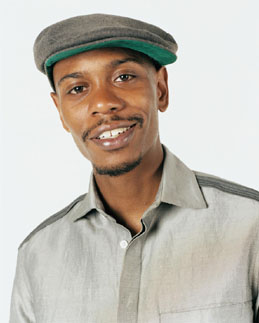 ...while it lasted.
But Charlie Murphy says the words I didn't want to hear. Chappelle's Show is over. [
AP
]
"Chappelle's Show' was like the Tupac of TV shows," Murphy said. "It came out, it got everybody's attention, it was a bright shining star, but it burned out and for some strange reason, it burned out quick."
Personally, those of us on the East coast would call Chappelle the "Biggie" of TV shows. Thank you very much.
UPDATE:
Murphy hints that they did shoot eight shows and he expects those to be released on DVD. [
Yahoo! TV
]
- - - - - - - - - - - - - - - - - - - - - - - - - - - - - - - - - - - - - - - - - - - -
One Last Music Post
I had to include this because this had been a great source of discussion recently. Mudge's brother was going to make this music set for one of his musically-challenged co-workers. And I mean REALLY musically-challenged, not "Paul McCartney had another band before wings" challenged, but "Is Paul McCartney related to Jessie" challenged.

Anyway. Mudge finally released the two CDs they are making for this poor girl and it's only two CDs because they don't feel like she will listen to more than two. (And really who listens to or watches box sets of anything?).

These two CDs were to cover the entire recent history of rock n' roll, from the 50s on.

DISC ONE:

Doo Wop/50s Heyday

1. "Come Go With Me" - The Del Vikings
2. First "rock and roll" song: "Rock Around the Clock" - Bill Haley & the Comets
3. "Hound Dog" - Elvis Presley
4. "Johnny B. Goode" - Chuck Berry

Okay, we'll stop here. Decent selections but a horrible omission. Jerry Lee Lewis was the biggest rock'n'roll star of the 50s. The biggest and the most controversial thanks to his marriage to his pre-teen daughter. Musical historians of the era will say that Lewis' antics actually contributed to the popularity of the "less controversial" Elvis, who swivelled his hips to dance...not bang his 11-year-old cousin. So I'd swap "Great Balls of Fire" in for The Del Vikings.

Electric/Acoustic Folk
5. "Like A Rolling Stone" - Bob Dylan

My main problem with Dylan is simple. He's nowhere near as mainstream or musically royal as fans of his want him to be. For everyone who thinks he was some musical prodigy, there are two people that think he was a babbling burnout. Someone who isn't familiar with music in general wouldn't like Dylan IMO.

Surf Rock:
6. "Surfin' USA" - The Beach Boys

Ouch, Beach Boys is fine but "Good Vibrations" is one of the greatest songs on one of the greatest albums. Really disappointing choice here.

British Invasion:
7. "She Loves You" - The Beatles
8. "Satisfaction" - The Rolling Stones
9. "My Generation" - The Who

Everyone's got a favorite Beatles sound so it's almost pointless to argue them. Satisfaction was a great choice. I actually would lean towards "Who Are You" over "My Generation" due to the gratitious profanities in the former. As for a Beatles song...I would swallow my own preference and choose "Hard Days Night"

Motown Sound
10. "R-E-S-P-E-C-T" - Aretha Franklin
11. "I Heard It Through The Grapevine" - Marvin Gaye

Mudge admitted that Aretha was not Motown but rather Atlantic, which was the far superior Soul/R&B sound of the 60s. Hence why they signed talent like Aretha. This is about as good as it gets for two songs. The Supremes were probably also considered but they weren't as good.

60's protest:
12. "For What It's Worth" - Buffalo Springfield

Psychedelia:
13. "White Rabbit" - Jefferson Airplane
14. "Purple Haze" - Jimi Hendrix

Flower Children:
15. "California Dreamin'" - Mamas and Papas

70's Pop:
16. "Fire and Rain" - James Taylor
17. "Brandy (You're A Fine Girl)" - Looking Glass

Really good stuff, definitely could've taken out Looking Glass and added "Ohio" from Crosby, Stills, Nash & Young instead. Would've given the CD much more depth on the end. Onto the second disc.

DISC TWO
70's trademark
1. "American Pie" - Don McLean

Early 70s soul:
2. "What's Goin' On" - Marvin Gaye

70s Blaxploitation:
3. "Theme From Shaft" - Isaac Hayes

All three are winners. "Ohio" should've slipped in somewhere. With Marvin Gaye on here once, I would've put Al Green on the 70's soul side. And Mudge should've stuck with his original thoughts and put Curtis Mayfield on Blaxploitation instead of "Shaft". However think "Pusherman" and not "Freddy's Dead"

Glam:
4. "Changes" - David Bowie

Heavy Metal :
5. "Iron Man" - Black Sabbath

Southern Rock:
6. "Free Bird" - Lynyrd Skynyrd

All great choices. Oddly enough whereas Mudge went with the popular song in most cases he chose "Free Bird" over the more popular "Sweet Home Alabama" in the Southern Rock genre.

70s funk:
7. "Give Up The Funk (Tear The Roof Off The Sucker)" - Parliament Funkadelic

Hmmm, "Brick House" (Commodores) or "Jungle Boogie" (Kool & The Gang) is the better choice IMO. Although Parliament is the master funk band.

Art/acid/prog rock:
8. "Brain Damage/Eclispe" - Pink Floyd

Stadium rock:
9. "Born To Run" - Bruce Springsteen
10. "Hotel California" - The Eagles

Disco:
11. "Stayin' Alive" - The Bee Gees

I'm Hard pressed to call Springsteen "Stadium Rock" that's a pretty strong stretch.

Punk:
12. "I Wanna Be Sedated" - The Ramones

New Wave:
13. "Heart Of Glass" - Blondie

Strong choices, but why not consider A Flock of Seagulls for the new wave? or a song like "Blue Monday"

Old Skool Rap: I would really argue hard for "The Message," but if you're worried about it being 7 plus minutes long, go with this one, which is only 5 minutes:
14. "Rapper's Delight" - The Sugarhill Gang

I left this comment in because I want to inform everyone that the only LEGIT version of Rapper's Delight comes in at over 16 minutes. Anything else is pure amateur.

MTV pop:
15. "Hungry Like The Wolf" - Duran Duran

No. Madonna my friend...The Material Girl was an MTV creation.

80s pop:
16. "Beat It" - Michael Jackson

Techno/electronica
17. "Don't Go" - Yaz

Hair Bands
18. "Pour Some Sugar On Me" - Def Leppard

You have a pick of the litter when it comes to Jacko songs from "Thriller" and "Yaz" is a quality selection. As for hair bands. I gotta lean towards the #1 hair band ever -- Poison "Talk Dirty to Me"
- - - - - - - - - - - - - - - - - - - - - - - - - - - - - - - - - - - - - - - - - - - -
A Meme Challenge...
Yes, I was challenged by the
Mudge
and I must deliver.
Before I do, a shout out to regular contributor Dave as he recently found out he and his wife will be having a child. Congratulations my friend and my apologies to the dog.
Onto this challenge which is simple: List the 10 songs I'm currently digging regardless of time period of genre. Easy enough.
"I Heard It Through the Grapevine" (Creedence version):
The Marvin Gaye version is the most superior of the bunch, but at 15 minutes, I've always had a special spot in my heart for Fogerty's adaptation and I've been listening to it (and a lot of CCR) lately.
"Award Tour" (A Tribe Called Quest):
More than any other CD, my "Midnight Marauders" CD has gotten the most consistent play since I bought it back in 1992.
"Get By" (Talib Kweli):
The best rap solo artist in the world....Not really, but he's pretty damn good.
"Refuge" (John Legend):
Everyday I get someone new into liking John Legend.
"Nobody" (Robert Randolph & The Family Band):
Any Robert Randolph song is worth its weight. Next week it'll be "Going in the Right Direction" or something.
"Eleanor Rigby" (The Beatles):
My thoughts on The Beatles are simple: John Lennon was the band. The more interested he was in what he was doing, the better the band was. This was off of the Revolver album.
Comfortably Numb (Pink Floyd):
I hadn't heard too much PF but their performance at Live 8 really has me listening to them almost daily.
"This Way" (Dilated Peoples and Kanye West):
Long before Kanye West became the monster he is today, he was collaborating with great non-mainstream hip-hop acts like Dilated
"Hold You Down" (The Alchemist):
This is like my daily theme music. It's just got a nice vibe about it.
I'll have to tag five people at another time. I'd tag Stephanie, but she'd throw out 10 industrial Euro songs I've never heard of ;)
- - - - - - - - - - - - - - - - - - - - - - - - - - - - - - - - - - - - - - - - - - - -