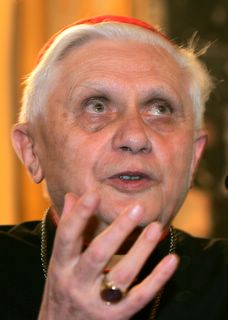 Now comes the fun part Benedict
I love Catholics, I've dated a few, I like the religion, I love that little confession thing, it's like free therapy -- Come tell me all your sins and I'll shut up and listen. I'm not a Catholic, never desired to be one and frankly my application wouldn't stick.
The new pope was announced yesterday. It's Joe Ratzinger or now known as Benedict XVI. He's such a hardline conservative, apparently he makes old Karol look like Mario Cuomo. He's also European, which means that Latin America -- the area with the highest concentration of Catholics -- gets stiffed again.
So in the interest of fairness, I scowled the wire looking for the goods on Cardinal Joe and here's what I found:
He's greatly popular in the Midwest U.S.
-- This bishop in Witchita seems to really like him [
KC Star
] and the Chicagoans are in mass hysteria (get it?...mass? I kill me) [
Sun-Times
]
"Some give him the reputation of being a hard-nosed German. I found him to be a gentle, almost grandfatherly type of a figure -- very soft-spoken with a warm smile,'' said Auxiliary Bishop John R. Manz.
But Not in Latin America
-- His tough rule on the poor will make it difficult for many in that region to keep up with the Roman Catholic doctrine [
Swissinfo
]
He's Got a Friend in Peta
-- No lie. The puppy lovers love their pope [
MSNBC
].
He's in Denial About Abuse
-- His words [
AP
]:
"In the Church, priests also are sinners. But I am personally convinced that the constant presence in the press of the sins of Catholic priests, especially in the United States, is a planned campaign, as the percentage of these offenses among priests is not higher than in other
categories, and perhaps it is even lower."
China Apparently Thinks He's a Pussy
-- From the International Herald Tribune [
link
]:
China wasted little time before warning the new pope, Benedict XVI, on Wednesday that the Vatican and China could establish formal relations only if the Vatican dissolved its diplomatic links with Taiwan and promised not to "interfere in China's internal affairs."
Something tells me Joe's not gonna go out like that.
He Hates Gays, Gays Pray for Him
-- His words [
SF Chronicle
]:
Cardinal Joseph Ratzinger -- the new Pope Benedict XVI -- issued a letter to the bishops on the "pastoral care of homosexual persons." The letter described gays as "intrinsically disordered" and homosexuality as a "tendency ordered toward an intrinsic moral evil."
Their words:
"While I have grave concerns about it based on what he's written in the last 20 years, we're still going to keep praying to the Holy Spirit that his heart and mind will be opened," said gay Catholic Paul Riofski, 47, of Antioch. "We'll continue to pray for the Holy Spirit to grant him enlightenment about who we are."
He's Near Death
-- At least according to his brother George...Is it a legitimate concern or just plain jealousy? [
CNN
]
Oh yeah, He Used to be a Nazi
-- Some Isreali Jews are willing to accept his 'mea culpa' [
AP
] Others aren't so quick to forgive [
More AP
]
My main concern is that he looks way too much like
this man
.