You've Been Juiced!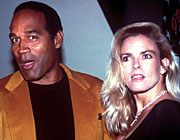 Nah man...I haven't been to the weapons store in...two...three weeks.

I miss O.J., I can't lie. People like O.J. make the rest of the world cringe and the thought of his new reality show gives a new definition to crash TV.
O.J. on Nicole:
"I regret the death of Nicole," he said. "But from June 12, from the moment I was awakened that day (in Chicago), I did everything I could do. I flew right home. I offered to talk to police. I offered to take a lie-detector test."
O.J. on M.J.:
"I saw Michael as asexual," Simpson said. "I know he loved kids, and after my trial the only place we could feel free for my kids to go with their friends was Neverland. He would have it open for us with cotton candy, popcorn, ice cream, everything."
O.J. on his presumed guilt:
"Everyone tries to find a reason for that: the evidence, the jury," he said, adding they ignore what he said is the real reason.

"I was innocent," he said.
You tell 'em Juice!
O.J. tells you
kiss his ass
and
watch his new reality show
.
- - - - - - - - - - - - - - - - - - - - - - - - - - - - - - - - - - - - - - - - - - - -