When It Rains...Yeah...You Know the Rest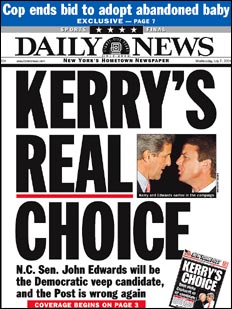 The Daily News is smiling wide.

This is why I love New York -- The media is
freakin' BRUTAL
on each other. These guys get after each other like nobodies business. Check this out:
7/7 N.Y. Daily News:
Leave it to the New York Post to further tarnish its shoddy reputation with yesterday's front-page "exclusive" declaring John Kerry had picked Dick Gephardt as his running mate.
7/7 Newsday:
One thing was correct about the front page of yesterday's New York Post: It was an exclusive.
7/7 N.Y. Times:
The Post quickly apologized but offered no explanation for how it came to print that report or why the story did not include a byline or even a source for the information.
Nothing better than old-fashioned gloating in the eyes of a rivals' mistake.
- - - - - - - - - - - - - - - - - - - - - - - - - - - - - - - - - - - - - - - - - - - -