Post-Hurricane Syndrome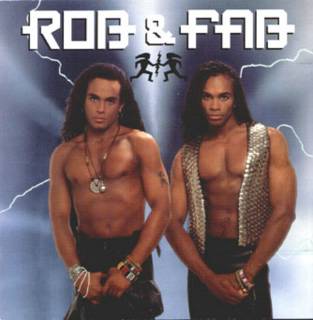 Okay this has nothing to do with my post, but this is the funniest album cover I've ever seen. No wonder Rob Pilatus overdosed.
Once the wind stops and the rain ends, Florida is once again soaking in sunshine and temperatures in the upper 80s. It's hard to hate living in Florida when its so nice outside.
Now there isn't much damage to assess in my neighborhood. The streets could use a nice sweeping and I lost power for about 30 hours. Good news is I spent most of that time in the well-lit confines of my office, bad news is I had to dump most of my ice cream. I live next to a school and some of their athletic facilities (their batting case and baseball field scoreboard) are now part of our neighborhood thanks to 100 MPH winds. All the tenants seem to be enjoying our new amenities but collectively they hope the rent doesn't increase.
I wanted to give you more of a blow-by-blow account of the storm but the office power went out and by the time it popped up that afternoon, the rain had ended and the network was running a little slower.
So in lieu of any cool destruction stories I suggest visiting places like
The Palm Beach Post
,
The Miami Herald
,
The Ledger
,
Florida Today
and The
Vero Beach Press-Journal
for photo galleries and related stories.
- - - - - - - - - - - - - - - - - - - - - - - - - - - - - - - - - - - - - - - - - - - -